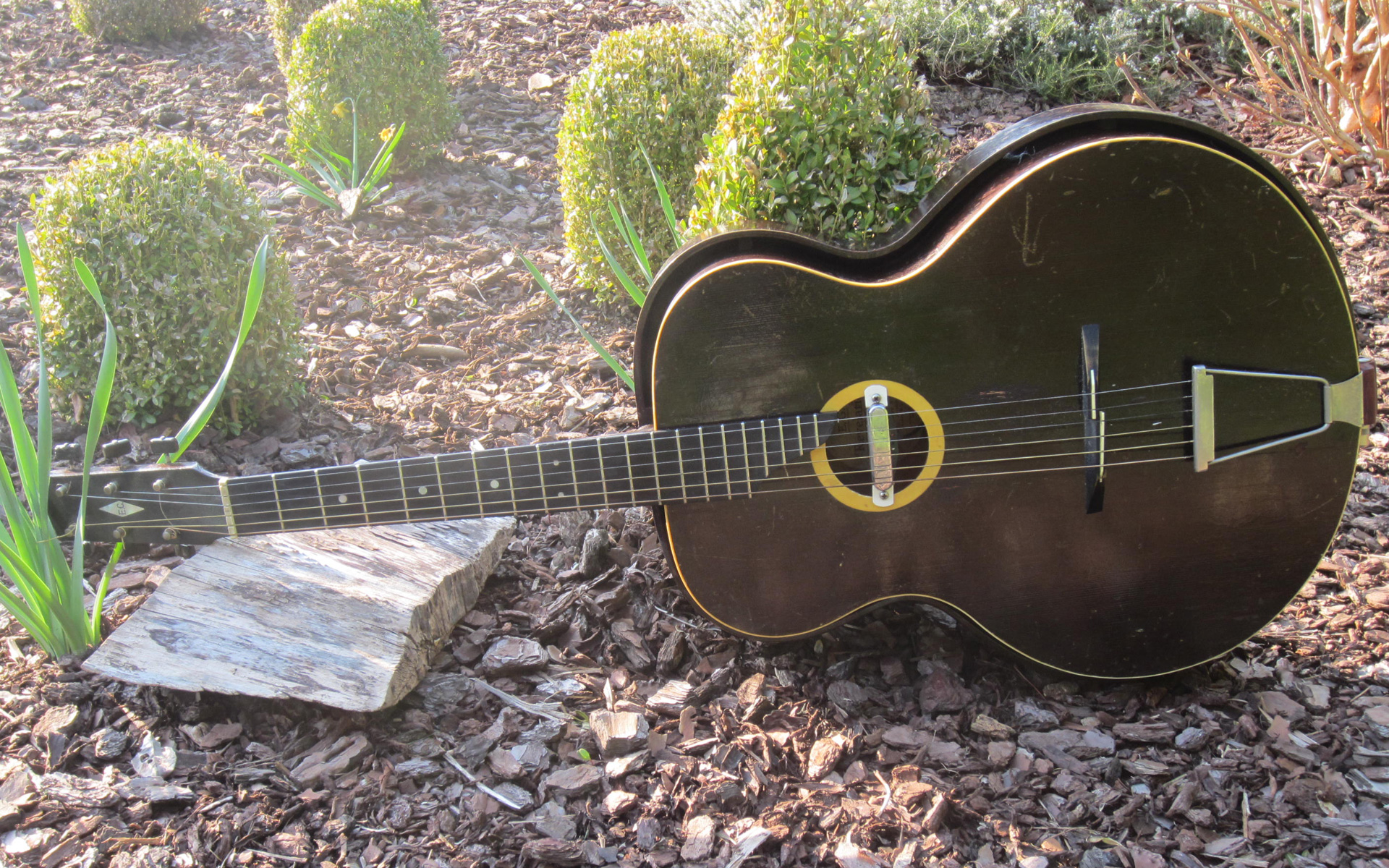 Emile Grimshaw is born in October 1880 at Accrington, to the north of Manchester. As one can see by his photo (ill. 1), he was mainly a banjo player who performed at the turn of 20th century with his quartet. Well-known for his methods of learning of the instrument and his scores, he recorded many vinyls, among which "Darktown Dandies" (HisMaster's Voice, 1930). His music is still played today.
Ill. 1
In 1930, he made with his son, also named Emile, a company producing banjos and guitars, the latter being inspired by the construction of banjos. The instrument, a very unusual acoustic one, was composed of two parts. A separated back, wider than the top, includes the latter with sides which overlap halfway down the proper sides. The system was conceived to amplify the sound before the electric instruments were invented (ill. 2-3).
Ill. 2. © Eric J. Sandiford
Ill. 2. © Eric J. Sandiford
At that time, people were concerned about getting a more powerful sound to guitars so that they become more audible in band with brass or woodwinds instruments. It is well-known that the concern gave birth to the National guitars, in metal, produced by John Dopyera and George Beauchamp since 1927. Grimshaw's invention too the name of "Revelation". In the first models, the separated back was detachable, but it had to be fixed afterwards, due to the vibrations that it produced, being only attached by two nuts. The instrument was proposed in two versions: an archtop with a curved sounding board, with holes in f, or with a flat sounding board with rosette. In 1935, an electrified version appeared, called "Premiervox". In our model, the flat sounding board shows a splendid wood of dark colour, with a circle of rosette and a binding imitating ivory – if it is not ivory… (ill. 4-5).
Ill. 4.
Ill. 5.
The straight neck is supposed to be glued and the fretboard has 20 frets with mother-of-pearl dot markers. According to E. Sandiford, world specialist of the brand, the headstock (ill. 6), has an inlaid plaque bearing Emile's intials, in a  logo in mother-of-pearl that will be used "on all the Grimshaw models before 1943".
Ill. 6.
If we compare our copy to other models of Revelation registered by Sandiford, we notice that the logo, the form of the headstock and that of the keys may change from a copy to another (ill. 7-8-9-10). The original side tuners are black in rectangle, while other models have black keys in almonds ou cream ones in tulps. Its headstock is similar to that of ill. 7.
Ill. 7. © Eric J. Sandiford
Ill. 8. © Eric J. Sandiford
Ill. 9. © Eric J. Sandiford
Ill. 10. © Eric J. Sandiford
The trapeze tailpiece is similar to the one of a sunburst Revelation-de-luxe of the thirties of Sandiford gallery (ill. 11) or on another sunburst with adjustable metal bridge (ill. 12).
Ill. 11. © Eric J. Sandiford
Ill. 12. © Eric J. Sandiford
The wooden bridge is original, but we have lost (!) the original cream scratchplate. Insude the soudhole is the label indicating "Emile Grimshaw & Son, 54-55, Piccadilly, London, W.1". It bears the serial number 45 and Emile Grimshaw signature, both handwritten (ill. 13). A Fender Telecaster pickup was required to equip the guitar, due to the narrowness of the soundhole (installed by Jérôme Nahon.
Ill. 13.
The copy was bought in London in the seventies (as I was searching for an electric guitar similar to the one played by Mississippi Fred McDowell in London…), but unfortunately without "the original faux crocodile hardcase with its pale blue lining" that is sometimes for sale.