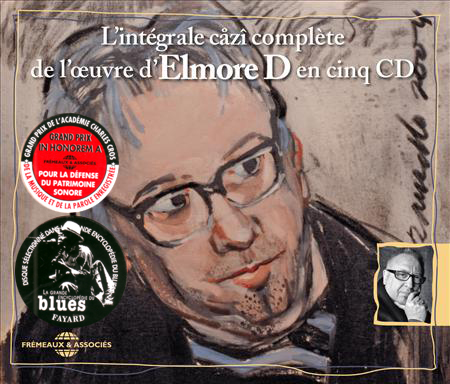 2015
Elmore D.
Frémeaux & Associés éditeur
Producer:
Augustin Bondoux and Patrick Frémeaux
"An almost complete works of Elmore D.? Why not a reedition of other bluesmen, before?", asked Christophe Mourot in Soulbag. But he immediately added: "Why not, after all?" First, "his approach definitely correspond to the editorial politics of Frémeaux and Associés", since the artist perpetuates the musical Afro-American tradition, but also the Belgian one, as he will rapidly sing in his Liège Walloon dialect". Come on, Christophe… I am just a small part, and not such a living one, of that Walloon tradition. Look for example at the documentary Le Bout de la langue (2016). So many defenders of the "Belgian" dialect are more active, popular, exposed in the media arena. What is true is that Patrick Frémeaux took me by surprise when he proposed me to produce a musical collection which seemed so closely entering into the spirit of his personal conceptions of cultural testimony. OK, it also tallied with my old working for regional affirming in the "Belgian" context.
This CD is full of cherished but untold memories, about peoples that I have met during the long years of my musical experiment. The latter perhaps would deserve I put it on paper. More generally, the chronicle of blues and rock 'n' roll in Liège would deserve that type of book, as well as the "Antwerp Blues Connection", the Ferre Grignard story, the memory of Bilzen or Peer festivals, or the Gent blues revival of today. If this "intégrale"shoud reflect  something of the psychological climate in a post-industrial country, it would be like Howling Wolf's complaint, singing: "I have had my fun, but tell my mama the shape I'm in."
This set included:
CD 1 / Basse-Moûse Blues (1997)
CD 2 / Saturday Night Rub (2000)
CD 3 / Tot k' mahî / Studio (2005)
CD 4 / Tot k' mahî / Life (2005)
CD 5 / Grandiveûs (2008)
+ a 44-page booklet