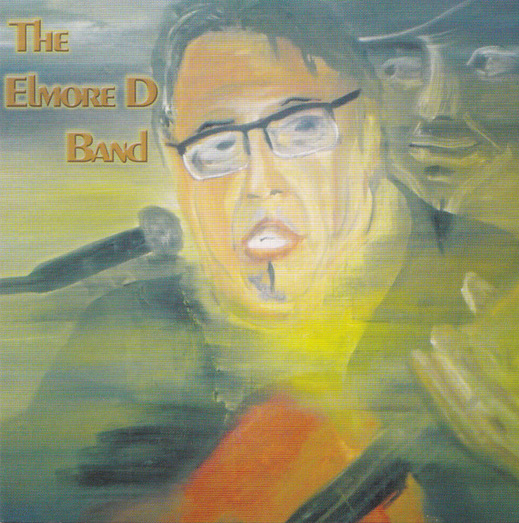 2004
Elmore D.
Pacific Blues Recording Co.
In the spring of 2002, Jeff Scott Fleenor asked me some unpublished materials that could be played on his broadcast "The Blues Disease" at Irvine CA. He gave them to Jerry Hall, who decided to put them on CD on his Pacific Blues Recordings Co. I submitted him various tapes, often lost in the most nooks and crannies of my home (as I explain it in the folio with the CD). I mention some of my friends in the revisited lyrics of the songs, like the economist J.-P. Urbain in "Whitewash Station" (of the Memphis Jug Band).
The songs were recorded at Bluesin' Belgium 1999, 4th Blues 'n' Bloom Festival (2000) and Blues Festivalen Mönsterås 2002 (Sweden; recording by Mats Danielsson, Sveriges Radio). The mastering was made by Joe Bellamy at Peace in The Valley Studio (Arleta, CA).  The latter especially worked at mastering for Big Walter Horton, Flat Top & His Jump Cats, Mitch Kashmar, R.J. Mischo, Johnny Moeller, etc. He was also engineer for Canned Heat, James Harman, the Hollywood Blue Flames (formerly Hollywood Fats Band), Rod Piazza and Kim Wilson (see AllMusic).
The recordings were compiled and arranged by Jeff Scott. The executive producer was Jerry Hall, who passed away on February 2, 2014, "after being in a coma-like state for months after injuries from a brutal assault in Virginia". His obituary says: "Known by many to be the consummate blues producer and engineer, Jerry got his start at Motown Records. He and James Harman met in 1971 and became famous friends and collaborators. It seems like the impact of Jerry's blues work was first felt with James' 1988 release of Extra Napkins. People listened to Extra Napkins in awe as a standard was set for recording new records with a vintage sound." For the artists released by Jerry, see Blindman's Blues Forum.
I tried to get in touch with Jerry on mail on February 2012. I've been told that he was in coma-like state after that assault.
TRACKS
1. I Can't Be Satisfied (4:07)
2. Gotta Move (4:35)
3. Drop Down Mamna (5:08)
4. It Ain't No Lie (3:27)
5. Walking Blues (6:23)
6. Roadrunner (5:42)
7. Dji N'Oûveûre Qui l' Londi (4:56) /Lyrics/
8. It's Tight Like That (6:31)
9. Broke and Hungry (5:44)
10. Outside Woman Blues/I'm So Glad (7:43)
11. Pick a Bale O' Cotton (5:45)
12. Whitewash Station (6:04)
13. I Can't Hold Out/My Heart Beats Like a Hammer (8:54)
MUSICIANS
Elmore D.: vocals, acoustic guitars.
Big Dave: harp, backing vocals on tr. 8 and 9.
Lazy Horse: electric guitars, mandoline, backing vocals on tr. 8.
Willie Maze: drums on tr. 1-4, 6, 9-10, 12-13.
Gerry Fiévé: drums on tr. 5, 7-8, 11.