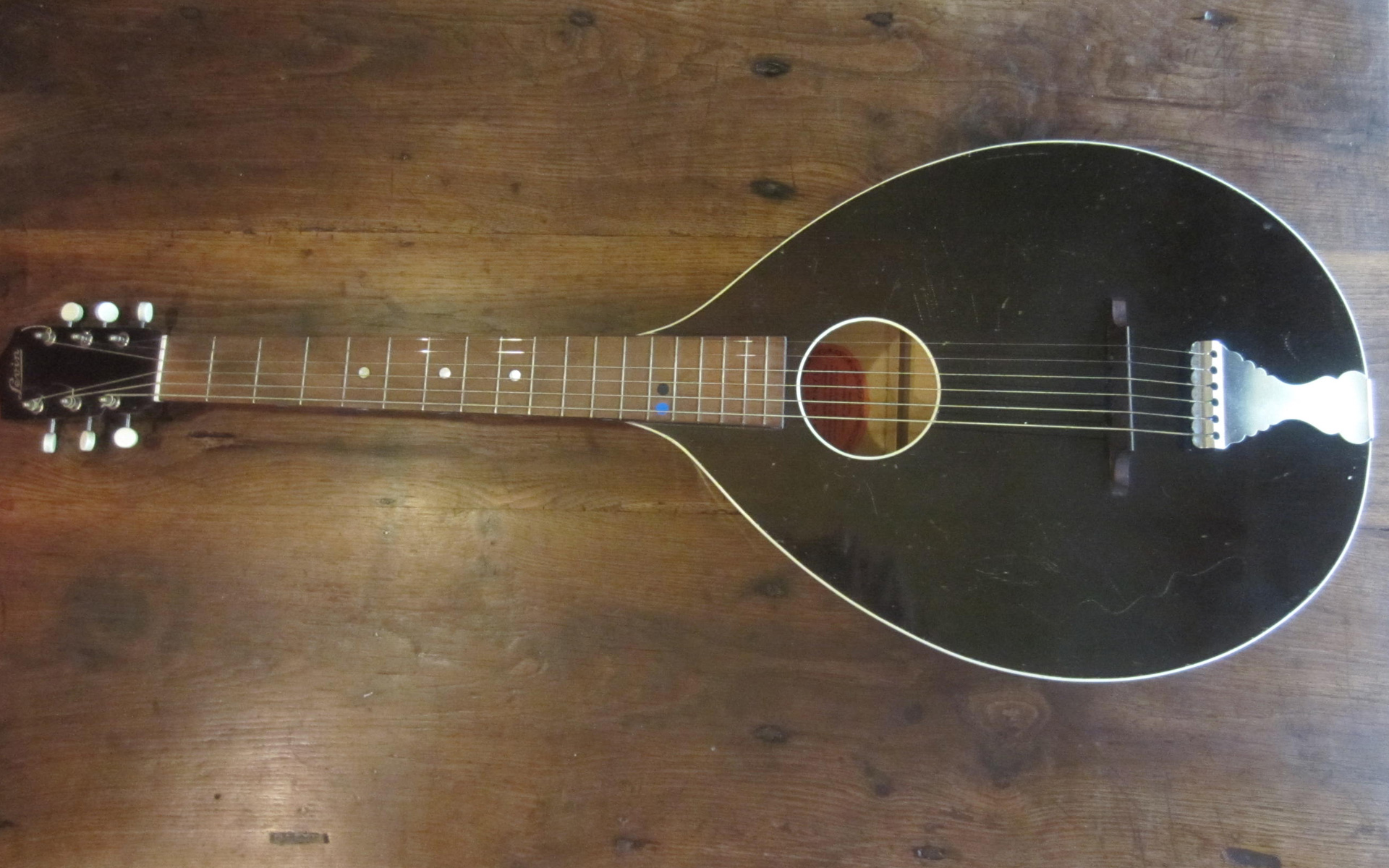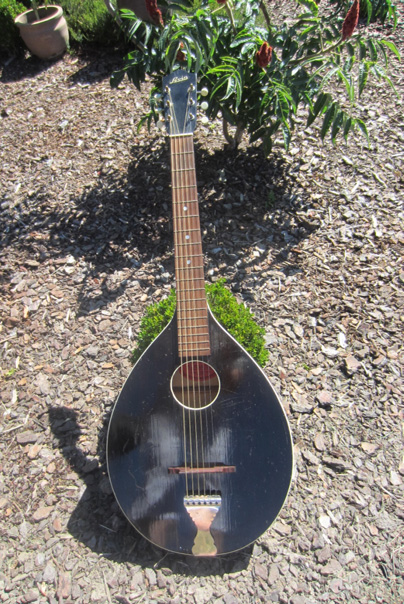 Here is my Guitar Lute Levin Model 131 of the thirties bought in Halkan's Rockhouse, "Home of Vintage Musical Instruments" (Stockholm, Sweden). The instrument is a birthday-gift from my family and from the webmaster of this site, Muriel Collart, for my 74th anniversary.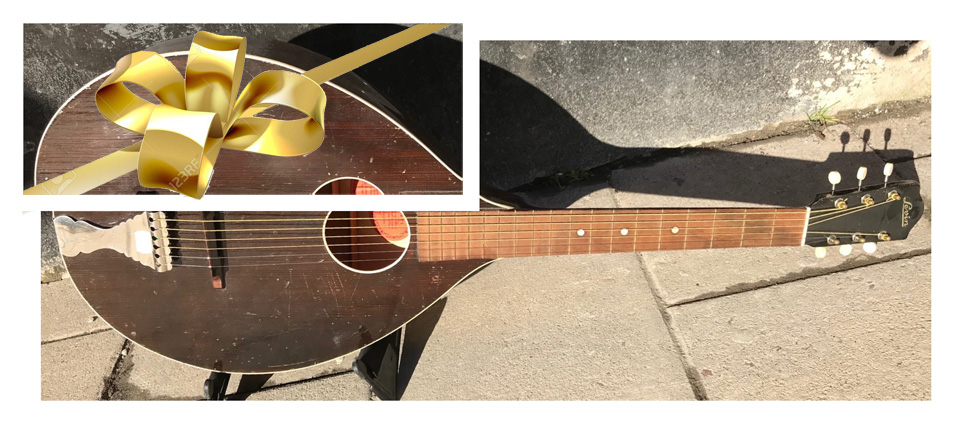 According to the Swedish website "Vintage Guitars" (info@vintage-guitars.se), this 6-string lute has a spruce top (épicéa) with undetermined bracing and birch back and sides (bouleau). The fingerboard is in walnut (noyer) with mother-of-pearl dot inlay. The single-bound top is in dark-brown finish. It has an unbound flat back. As it can be seen below, it differs from the contemporary Model 127 as the latter was in golden brown finish, but also as – at least in the 1934 catalogue – the Model 127 has a wood bridge and the Model 131 a metal tailpiece. The latter, in the shape of a cup, was used as soon as 1928 in the Model 135 during all the thirties. These Model 131 and the Model 127 may also be easily distinguished as the first has three dots inlay and the other four.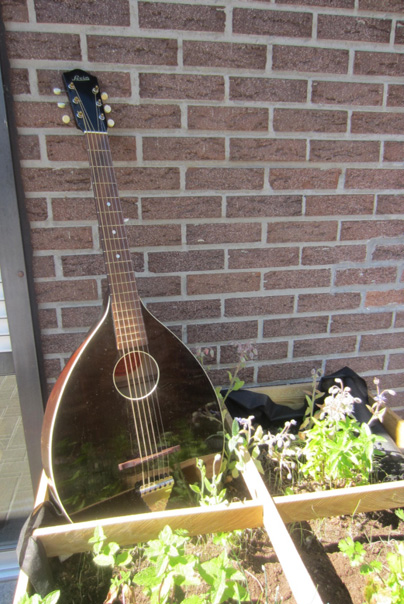 I checked that the body width was around 350 mm. rather than 360 mm. and the body depth around 80 mm. than 90 mm.
The lute-guitar has the type of annual warranty, in red, which were used from 1933 to around 1935, according to the amazing article by Christian Seguret on "Levin. Les modèles suédois. Part 1", published in Vintage Guitar 25, 2016, oct.-dec., p. 32.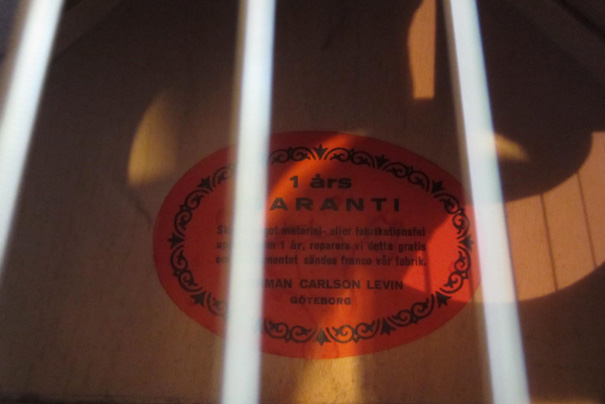 The number 89834 is engraved of the top of the head. The 1933 copy registered in "Vintage Guitars" has the number 84317. I noticed that the earliest known example for the Model 127 has the number 82948 in 1933, as if the numbers were mixed in the two series – if it is possible (?). Thus, the Model 135 (see below) is interesting because the site mentions copies for 1933-1934: one with the number 82565 for 1933 and another one with 89609 for 1934. It means that my Model 131, with the number 89834, could have been produced a little later after the Model 135 of 1934.  A Model 115 of 1934 – a ten string bass lute – with the n° 88887 may be heard on Youtube https://www.youtube.com/watch?v=tE-kAYRe7M4. But you get the best idea of what may be played on a Model 131 of 1946 in a video by Bottleneck John: https://www.youtube.com/watch?v=zVak8e6VstE
But you may also hear what he can do with a parlour Levin Model 267 of 1934: this guy has the blues, definitely! https://www.youtube.com/watch?v=JXBKzmjzV7M
6-string lutes with slotted headstock, mother-of-pearl dot inlay, nickel plated tuners.
From 1930-1940.
MODEL 127
MODEL131

Model 127 (1941)


Photo by courtesy of  Björn  Albertus


Model 131(1933)


Photo by courtesy of Ronny Broberg

Model 131 (1938)
Photo by courtesy of www.vintage-guitars.se

Spruce (épicéa) top
Spruce (épicéa) top
Maple (érable) back and sides
Birch (bouleau) back and sides
Rosewood (bois de rose ou plutôt palissandre) fingerboard
Walnut (noyer) fingerboard
Golden brown finish
Dark brown finish
Four dots inlay
Three dots inlay
Nickel plated tuners
Nickel plated tuners
Wood pyramid bridge
Wood pyramid bridge
–
Nickel amphora tailpiece
Introduced ca 1933
Introduced ca 1933
Earliest known example 82948 (1933)


No copy known.

Earliest known example 84317 (1933)


Latest before 1940112 175 (1938)

MODEL 135
MODEL 130

Photo by courtesy of www.vintage-guitars.se

Spruce (épicéa) top
Spruce top
Birch (bouleau) back and sides
Flame birch (bouleau ondé) back and sides
Wood purfling around top
Rosewood
Walnut (noyer) fingerboard
Rosewood (bois de rose ou plutôt palissandre)
Natural finish
Dark mahogany (acajou) finish
Three dots inlay
Varied mother-of-pearl inlay
Black plastic tuner
Introduced ca 1927
Introduced ca 1927
Earliest known example 66735 (1929)
Earliest known example 18975 (1931)